Microcurrent facial is an in-demand facial beauty treatment offered by high-end spas and beauticians. However, there are 5 longevity and anti-aging secrets of microcurrent treatment that your licensed aesthetician does not know.
Learn more about microcurrent therapy health and wellness benefits that go beyond facial skin treatment.  Discover how microcurrent machines' healing properties will rejuvenate your whole body, not just facial rejuvenation, but from the inside out rejuvenating the beauty from within.
You will discover in this article how microcurrent facial stimulation restores muscular and vascular functions by improving skin circulation and skin nutrition.
Microcurrent facial trends: what's out there?
We always want to look our best, right? But wrinkles, skin problems, pimples, acne, scars, and what-have-you can diminish one's confidence. In fact, studies showed that people with dry, oily and damaged skin tend to have low confidence level and low self-esteem.
As we age, skin problems also become an issue. For women, wrinkles, crow's feet and sagging skin are devastating. As a result, cosmetic surgery came to the rescue for those with deep purses and became a beauty trend. But, going under the knife did not prove healthy. Many people who opted for surgeries ended up with worse conditions.
Looking young and trying to rejuvenate and erase aging lines on the face is the business of celebrities. After all, they have dollars to spend on these expensive cosmetic surgeries. Yet, it's not always the outcome that they expect to achieve. Sad to say, often cosmetic surgeries turned into a disaster.
Celebrities will not always admit that they had face lift surgery or a Botox injection. But their photos tell otherwise and the horror stories are too many to recount..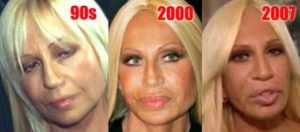 Donatella Versace, the famous Italian fashion designer, has undergone several plastic surgeries in the last 10 years. She looks so much different now. Her skin looks very waxy and unnatural due to repeated Botox and laser treatments. Just look at her photo.
Given the demand for effective, healthy and noninvasive beauty treatments, the idea of using microcurrent therapy for facial treatment became popular. In fact, celebrities and renowned facial specialists quickly caught on to the idea and soon enough, microcurrent facial became the holy grail for the beauty spa of choice for the rich and famous.
According to microcurrent facial reviews, here are some of the most popular anti-aging microcurrent facial toning devices in beauty centers and at home.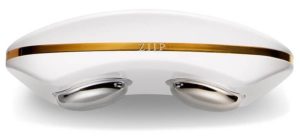 Celebrity aesthetician, Melanie Simon, led one of the earliest "cult-like" following among Hollywood celebrities with her electrical facials that use various combinations of microcurrent and frequency specific microcurrent solutions. Simon's microcurrent facial treatments received tremendous results and many of her clients felt coming back to get the best rejuvenating effect of her facials. In 2015, she launched ZIIP, her own handheld microcurrent facial device. Soon enough, her clients were enjoying electrotherapy treatment at home.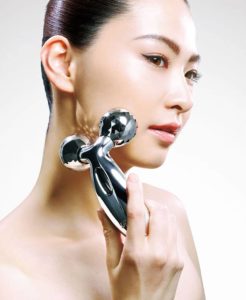 Another interesting device is the ReFa Carat. This is a hand-held rolling device that can be used on your face and your body to stimulate and revive tired, stressed skin by replicating the professional deep kneading manipulations one would get in a professional facial or massage treatment.
This waterproof tool features a unique platinum 360-degree, multi-angle design that delivers gentle microcurrent to boost circulation, rejuvenate the skin, enhance firmness and improve the tone of your skin with its indoor solar powered battery that will never have to be replaced, or so they claim.
Beauty and skin care giant NuFace also got on the lucrative microcurrent facial trend. In fact, the NuFACE Trinity Facial Trainer kit is a microcurrent treatment clinically proven to improve facial contour and skin tone and reduce wrinkles. One of its reviewers said that you don't need to spend hours faking high cheekbones or beautifully lifted brows because you can achieve it naturally in as little as 5 minutes every day with the NuFACE microcurrent facial device.
Another popular device is the Serious Skincare Microcurrent Facial Toning Device. It can rejuvenate,  lift and tone facial muscles, while at the same time, soften fine lines and wrinkles, and it can also be used in the neck area to tighten slack skin. You can see results instantly and will notice ongoing improvement with continual usage. Like all microcurrent devices it is painless (you do however feel slight tingles).
DENAS known for it's exceptional medical microcurrent devices, also has their microcurrent facial device called the DiaDENS Cosmo.
By using a special hypoallergenic facial electrode the Cosmo delivers two stimulation modes, one for lymph drainage using a combination of 100 ± 30 Hz and 50 ± 15 Hz.  For nourishing the Cosmo uses 100 ± 30 Hz for improved circulation and transdermal uptake of their all-natural facial masks.
A facial mask and microcurrent facial that at the same time also boosts your metabolism.  Depending on your age and skin condition a course of up to 12 back to back sessions will achieve remarkable results.
Boosts your metabolism
Nourishes and rejuvenates your skin
Improves blood circulation
Anti-aging and rejuvenating
So let's now  discover how microcurrent facial stimulation restores muscular and vascular functions by improving skin circulation and skin nutrition.
The Deep Secret Anti-Aging Microcurrent facial benefits that your aesthetician does not know about:
Here is a list of microcurrent benefits of microcurrent facial toning that everyone is talking about:
Promotes cell metabolism and tissue repair
Supports circulation – blood and lymph
Reduces inflammation
Helps increase mitochondrial activity by turbocharging your mitochondria ATP
Increases natural production of collagen and elastin
Supports scar repair by dispersing scar tissue and collagen remodeling
Increases protein synthesis, gluconeogenesis (GNG) and membrane transport.
Re-educates and rejuvenates muscle tissue
Increases the natural production of collagen
Increases elastin
Increases the natural production of collagen
Improves skin texture
So, here are the 5 of the microcurrent benefits that your aesthetician does not know about.
microcurrent optimally charges the 100,000 bio-chemical reactions that occur every second on your body
microcurrent solves your pain, boosts your energy and rejuvenates by going deeper than just skin deep
microcurrent charges the body, just like charging a flat battery
microcurrent supports mitochondria functions
microcurrent, when strategically applied effects the whole body to optimize your overall health.
With the popularity of microcurrent facial and its celebrity status, avoid the temptation of thinking that this is just a beauty spa fad. The truth is, microcurrent therapy has been around since the 1980s and it has been used medically as a viable treatment for most diseases and health conditions.
See the full Russian clinical study on 18,255 people with an overall cure rate of 88.25% here.
Sign up for more details in our eBodyFUSION News