For Thanksgiving Linde and I are hiking up Mauna Loa and taking our prayers to end this debt/slavery bullying bullshit. My "health coach" goal is the summit 13,677′ for only my third attempt despite having hiked maybe 30 times to train and later explore vast expanses of the biggest volcanoes on the planet sometimes off trail checking out the geology of the ice age remains and quarries dating back 6000 plus year to the stone age.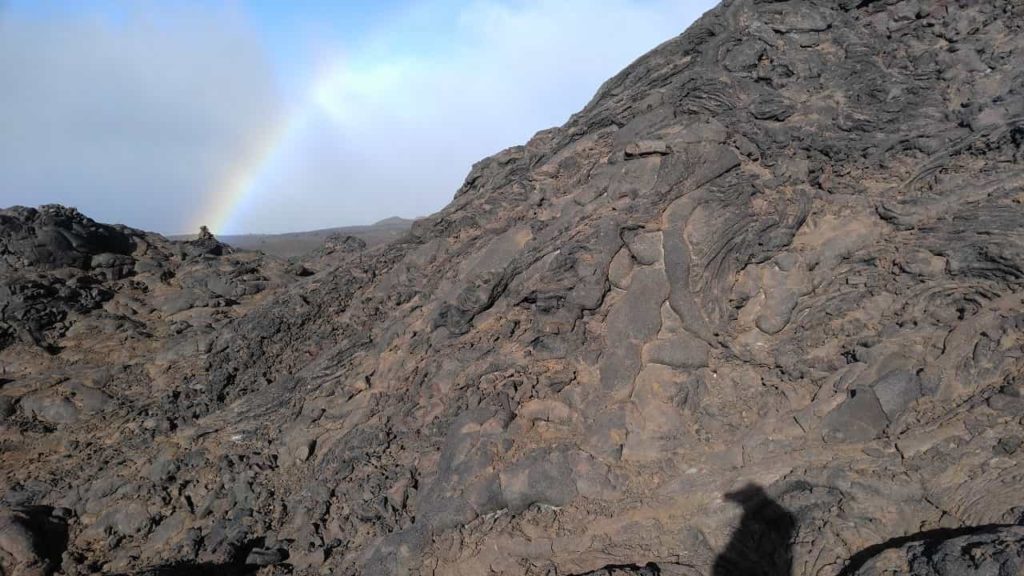 It's tough, very tough, very very steep at times, I have to listen deeply inside and not freak out anymore at the loneliness, losing the trail and the weather can change rapidly this time of the year.
Like anything it takes a while developing a specific mindset and new skill sets for the challenge. Breathing skills, fasting skills, shoes and gear skills and each time getting to know the trail better because I'm a little bit fitter and mentally prepared.
As a health coach I've been deeply humbled and healed by the teaching of these volcanoes.
Hopefully you are improving your health and stamina like crazy too, or you're losing out on valuable time.
Like anything in life it takes preparation and training and in part the LockDown Karnival has been a blessing for us to renovate/upgrade our off grid living facilities with new roofs, paint, varnish, updating the incredible cymatic sound system in our Ashtanga yoga studio, food growing, landscaping, solar energy needs and water catchment for the next decade or so.
Two months ago we began supporting our our community association (that now donate 400 – 500 meals a week from various grants) by performing for hours at the the Fridays Farmer's Market. Me on uke and vocals and Linde and backup vocals & violin singing protest songs, songs of love mixed in with the Beetles and contemporary Hawaiian songs. People love it, so do we:)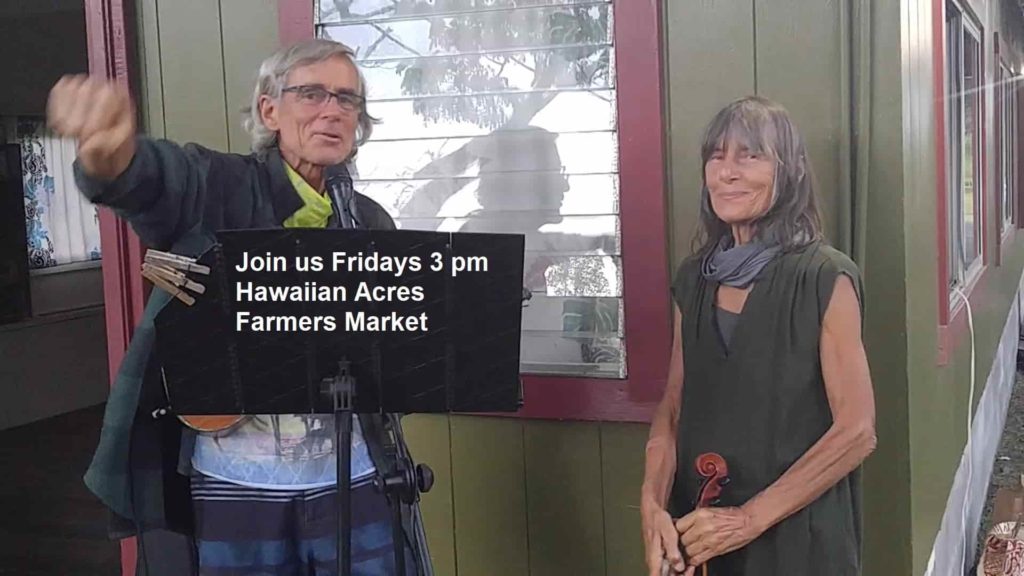 I had never performed music solo publicly before and five years ago had never picked up a ukulele or even sung a song. I remember the day when I timidly sung my first song to Linde "Grandpa Tell Me About The Good Old Days" with a lump in my throat and tears in my eyes.
I have always loved music and created/invented the first sacred geometry tactile cymatic sound environments for healing back in the late 80's, but had never performed solo, and now I think of it I had thought at times how it would feel.
Just like the high altitude hiking, because of asthma I had never ever dreamed of being able to hike on foot to the summit of Mauna Loa and Mauna Kea. The lesson I want to point out here is to recreate your vision about your health potential. Then learn to systematically keep repeating them to build your stamina and immunity, so you never have to go into a hospital, never ever and when the time comes you can pass with your friends and family at home.
I am now in my 70th year and Linde is 76 so we have become living proof that our healthy lifestyle and health coaching can be an example to others.
Hopefully you too?
Want to learn more about our cutting edge and comprehensive health and longevity tactics?

Subscribe to my personal YT Channel to take you on a thanksgiving journey up Mauna Loa.
But….
We all have a problem, a huge elephant in the room that is not going away anytime soon unless …
It's the devil in the LockDown plandemic details that feeds on blinded by ignorance, knee jerk stupidity, fear and anger: the ultimate divide and conquer killer of humanity and the end of the world as we knew it.
Back in April I released a video telling the facts about COVID linked here and predicted outcomes if we go along with the Germ Theory indoctrinated murderers. Yes you read that right. Instead think Terrain Theory.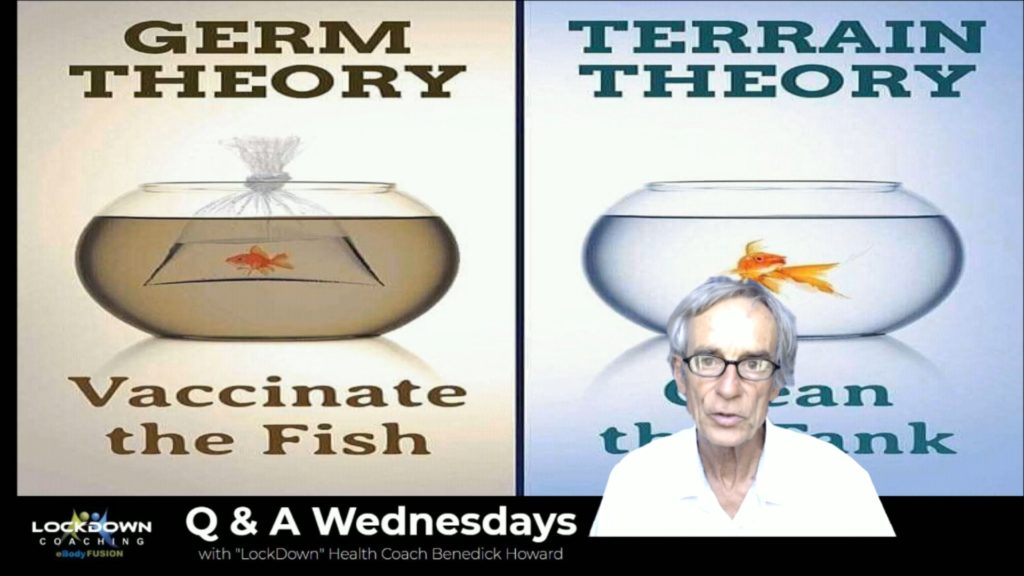 "We defend to the death that we think we know, even when we know we are wrong"
In order get off the fence and take care of ourselves best we have to break the mental, emotional, physical and spiritual bondage models.
It's fast getting virtually impossible for most of humanity to do now.
And because you have got this far, there's hope for the few of us, and maybe others too as the ripple swells. So keep reading.
And subscribe to my personal YT Channel
It's taken me decades to come to terms with the lies we've been taught and to navigate my life through the downward spiraling twisted mindsets of, for example bankers. I know this personally through my merchant banking Sir Howard and Howard House killer ancestors and was finally "released" this lifetime to devote it to uncovering the secrets of health and personal development both in sound and electrical healing technologies.
For real, I've spent decades doing the heavy lifting for you.
I write this in gratitude and as a thanksgiving to our amazing health and that of my health coaching clients who have the passion and discipline to reap the benefits and master the control of the bondage we are now so obviously locked into with advanced brain stem balancing protocols that I've developed and been researching on myself and clients for a couple of years.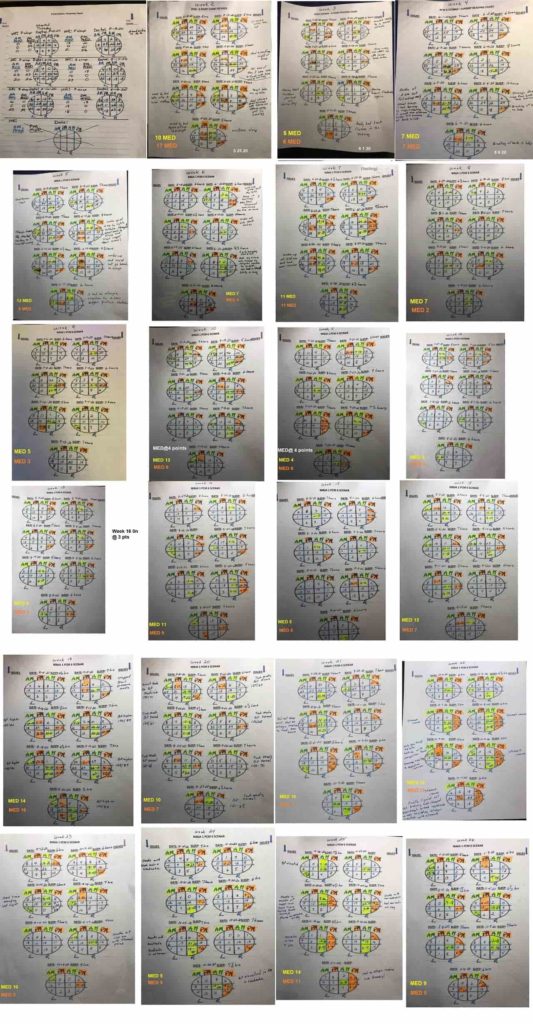 Anyway for now I need to sign off and by the time you read this I'll be hiking to the summit up Mauna Loa. Join me there 🙂
I'll upload more vids later and I hope this may inspire you give it your all to critically think about how to improve your health on all dimensions.
And I'll burn sage at the summit to clear the space energetically for this to manifest for all of us.
Mahalo
Benedick
PS Subscribe to my personal YT Channel and hit the notifications button 🙂