DENAS PCM Ninja 1 - Training

NOTE:  Each day this month you will receive emails with new content.
You will get access to the new content as it is released in the links below.
Click on scale to show ratings
BONUS:  DiaDENS PCM Workshop Series
PCM - Overview Workshop
How it works - How to Use and Safety
Overview how to use the PCM settings for a huge range of situations
3 reasons why SCENAR/electricity is so beneficial
why and what electricity can do
Case studies, tips, and safety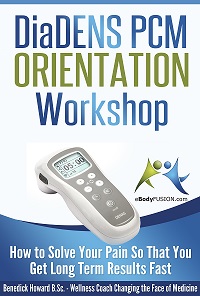 Participant's questions about:
Screening mode,
speed of movement,
different PCM settings,
training options,
concussion/tremors,
foot pad,
chronic fatigue,
What do the different frequencies and settings do and how to do it
surgery pre- and post op,
depression/anxiety
Group exercise how to apply 7.8 Hz to slow down brain wave activity to planet resonance.
Ultra low frequencies,
Pre sets and MED diagnostics
Different electrodes: what they can do and how to do it
Application techniques: how long, what frequencies, settings and case examples
Training options:
Quick Start,
Self Study and
VIP Coaching.
Q&A
NB the 7 day Quick Start module was added after this call.
Disclaimer: This is not medical advice. We are using the PCM to balance the electrical energy in the body, not for treatment of any disease.