DENAS 3 basic 7 Day Training
What Pain Do You Quickly
Want To Solve Today?
LIMITED TIME OFFER ...
Please take a moment to complete the questions and I'll send you the link for your bonus.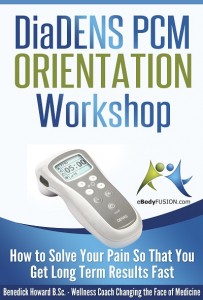 You will get the pdf of the first of 5 PCM teleconference workshops that I hosted at the end of 2014 and into January 2015.
Theory, Application and Training
Participant's questions about:
Screening mode,
speed of movement,
different PCM settings,
training options,
concussion/tremors,
foot pad,
chronic fatigue,
surgery pre- and post op,
depression/anxiety
Group exercise: how to apply 7.8 Hz to slow down brain wave activity to planet resonance - grounding
What do the different frequencies and settings do and how to do it
Ultra low frequencies,
Pre sets and
MED diagnostics
Different electrodes: what they can do and how to do it
Application techniques:
how long,
what frequencies,
settings and case examples
Training options: 7 day basic, 30, 60 and 90 day advanced self and professional application mentoring, Self Study and group/private wellness coaching.
Q&A
1 - 10 Pain Scale
1. Slight
2. Noticeable
3. Uncomfortable
4. Annoying
5. Distressing
6. Hampering
7. Disabling
8. Agonizing
9. Excruciating
10. Unbearable
1 - 6 Power Scale
1. No tingles
2. Light tingles
3. Medium tingles
4. High tingles
5. Threshold
6. Above Threshold